An addiction to refined carbohydrates is all in your head – literally. Research from Boston Children's Hospital clearly showed that a meal with a high glycemic index (in other words, high sugar/refined carbs) caused a "sugar high" (excessively high blood sugar) immediately after the meal and a sugar crash (low blood sugar) about four hours later. The low blood sugar triggered increased appetite in study participants. These blood sugar swings affect the neurotransmitter dopamine – a chemical messenger in the brain that has been implicated in addiction.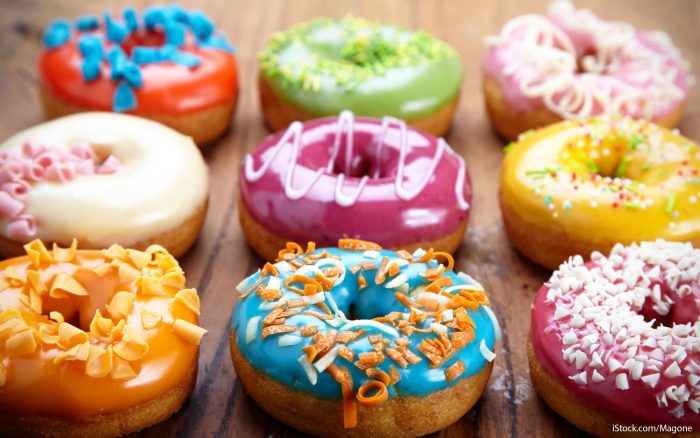 Here are some strategies to help you conquer a sugar/refined carb addiction:
Stabilize Your Blood Sugar – One of the best ways to keep your blood sugar from swinging is to eat protein and healthy fat with each meal and snack. Both of these are more slowly digested than refined carbs, so your blood sugar rises and drops slowly instead of the surge/crash cycle common after eating refined carbs. This should be your first step.
Go Cold Turkey on Sugar – Although this is a vitally important step, don't start here; it will lead to a sugar crash of monumental proportions, with cravings and other unpleasant side effects. Remove all forms of sugar and refined carbs from your diet – no bread, pasta, crackers, white flours or grains of any sort. Absolutely no sugar, diet soda or artificial sweeteners. If you need a little something for your coffee, try stevia. After about three days, you should find the cravings have diminished.
Boost the Fiber – Like protein and fat, fiber slows digestion. Vegetables are a great source of fiber – foods from the cole family, like cabbage, kale and broccoli – have plenty of fiber as well as other important nutrients. They also contain insoluble fiber, which helps feed the all-important beneficial bacteria in the gut. Whole grains and fruits like apples also have fiber, but it's important to limit these foods as they are primarily carbohydrates and fruits contain fructose, a natural form of sugar.
Calm Yourself – Addictions are all about jittery brains that need to be soothed. Once you remove the soother (think of it as taking a pacifier away from a baby), your brain wakes up and starts shrieking. Find other treatments to calm the emotional centers you've been drowning with sugar. Talk to friends or a counselor or try writing in a journal when you're upset instead of eating. Focus on the positive – list five things you feel grateful for every day. When your brain tosses up negative thoughts, counter with a positive.
Balance the Basal Ganglia – The basal ganglia are structures in the brain that control emotions and habits (among other things). Hello – emotions and habits that drive you to sugar and refined carbs. You can soothe this part of the brain with relaxation techniques like deep breathing and meditation. It's also important to turn off the technology, which stimulates your pleasure centers just as addiction does. Supplements like vitamin B6 and magnesium can also be helpful.
Conquering addiction is not about willpower or being lazy. You're not a bad person because you've become addicted; it's just the way your brain works. The techniques above can help you beat the sugar cycle and become much healthier – not to mention more relaxed and happy.